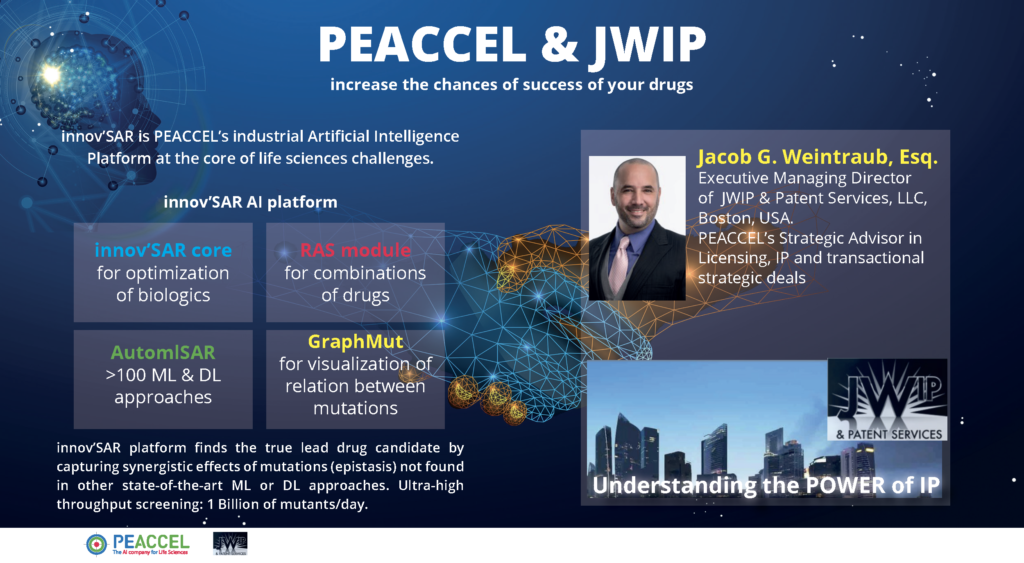 PEACCEL (Paris, Fr) and JWIP & Patent Services, LLC (Boston, USA) have signed a strategic partnership agreement.
As of October 2022, PEACCEL – The AI company for life sciences in Paris, and JWIP & Patent Services, LLC a Leading IP Firm in Boston, USA, combine their know-how and expertise to address the increasing needs of emerging AI-based drug discovery challenges for their large portfolio of customers and partners.
Combining the innov'SAR industrial AI platform developed by PEACCEL and the legal counsel provided by JWIP to accelerate critical collaborations and licensing between PEACCEL and key players in the pharmaceutical and chemical industries.
Continue reading "PEACCEL (Paris, Fr) and JWIP & Patent Services, LLC (Boston, USA) sign a strategic partnership to increase the chances of success of your drugs"