PEACCEL (Paris, Fr) and JWIP & Patent Services, LLC (Boston, USA) sign a strategic partnership to increase the chances of success of your drugs
13 October 2022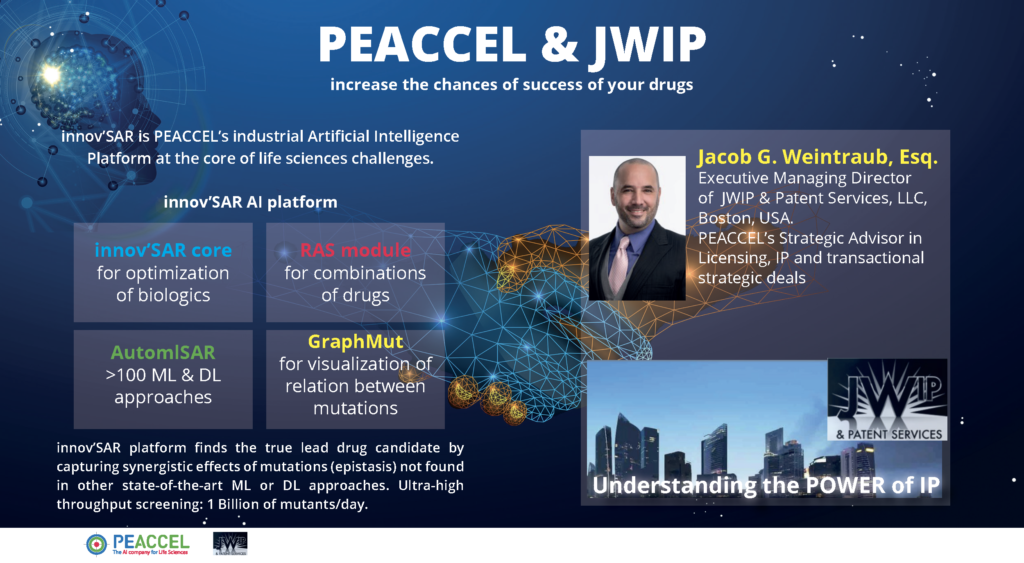 PEACCEL (Paris, Fr) and JWIP & Patent Services, LLC (Boston, USA) have signed a strategic partnership agreement.
As of October 2022, PEACCEL – The AI company for life sciences in Paris, and JWIP & Patent Services, LLC a Leading IP Firm in Boston, USA, combine their know-how and expertise to address the increasing needs of emerging AI-based drug discovery challenges for their large portfolio of customers and partners.
Combining the innov'SAR industrial AI platform developed by PEACCEL and the legal counsel provided by JWIP to accelerate critical collaborations and licensing between PEACCEL and key players in the pharmaceutical and chemical industries.
PEACCEL, thanks to its expertise in the field of AI-driven fast protein optimisation and Drug Discovery, provides a data-centric approach to AI-based drug discovery as well as the selection of lead drug candidates from billions of molecules.
Gerry Ah Hee Ayan, CEO of PEACCEL, states : « Our proprietary innov'SAR platform finds the true lead drug candidate by capturing the synergistic effect of mutations (epistasis), which is not found in any other state-of-the-art Machine Learning or Deep Learning approaches. Our platform is an industry-proven protein evolution tool, successfully applied in numerous collaborations to optimize biologics. »
Jacob Weintraub, Executive Managing Director of JWIP: «With over twenty years in intellectual property, JWIP has represented a diverse group of clientele including providing counsel to global corporations, renowned academic institutions, and mid-sized domestic and international companies with experience across the IP spectrum: IP development and strategy, opinion work, and major transactional deals. We join PEACCEL to offer in-house facilitation of ongoing licensing deals, and to expand the exposure of this amazing technology across the pharma and chemical industries. PEACCEL intends for long and enduring partnerships with life sciences companies, and we have joined with PEACCEL to support these efforts. We think Its potentiel is huge!»
This strategic partnership will increase the chances of success of drugs, drastically accelerate the drug development process and reduce associated costs (and risks) for customers and partners.
For more information :
PEACCEL
Making the world disease free
Contact: AI-team@peaccel.com
http://www.peaccel.com/
JWIP & Patent Services, LLC
Understanding the Power of IP
Contact: jweintraub@jwpatents.com
http://www.jwpatents.com/